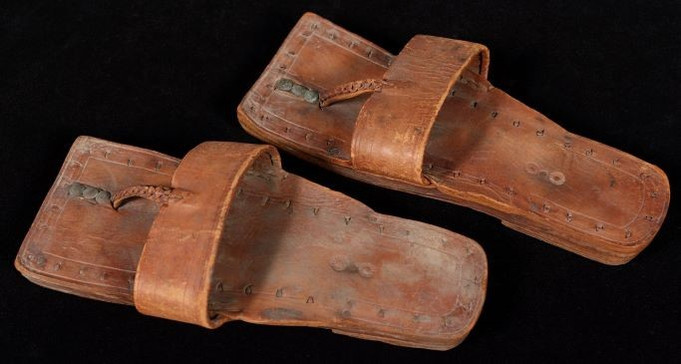 Here we have an interesting item from the Lawrence collection at The Manuscripts and Special Collections Department, Nottingham University; a pair of DHL's sandals listed in the catalogue as La Ac 3/1-3: Palette, sandals and poncho believed to have been used by D.H. Lawrence during his stay in Santa Fé, New Mexico, United States of America.
The sandals are handmade thong style sandals of tan coloured leather. They were in the possession of Lawrence's family for many years before being bought by the university in 2018 with the assistance of the National Heritage Memorial Fund, the Foyle Foundation, Friends of the National Libraries, the Aurelius Trust, the Duke of Portland's Trust and the Thriplow Trust.
Once Lawrence left England in 1919, he and Frieda travelled extensively through Europe, to Sri Lanka, Australia, New Mexico and back to Europe again. At which point on his travels did he pick up these sandals? Particular thanks to Amy Bowler from the Manuscripts Department and John Worthen for their help researching this.
Could they have been from his time in Picinisco, the setting for Alvina Houghton's Italian home in The Lost Girl? Lawrence writes in a letter to Rosalind Baynes, 16 December 1919:
'It is a bit staggeringly primitive…The natives are 'in costume' – brigands with skin sandals – and white-swathed strapped legs, women in sort of swiss bodices and white shirts with full, full sleeves – very handsome – speaking a perfectly unintelligible dialect and no Italina. The brigand men are by no means fierce; the women are the fierce half of the breed.'
You can see this letter in the Manuscripts and Special Collections Department with the little sketch of the sandals Lawrence drew. (reference: La C 7).
Or are they from the summer Lawrence and Frieda spent at Fontana Vecchia, Sicily -where, as he remarks in the poem 'Snake' he is usually 'in pyjamas, for the heat'. On 20 July 1920, Lawrence writes to Douglas Goldring:
'when I must put my suit of pyjamas in the tub, behold me in puris naturalibus, performing the menial labours of the day … I have lived for weeks in a pairof pyjamas and nothing else - barefoot: and even then too hot'
So no, here he is not in sandals. However, Catherine Carswell writes in her biography A Savage Pilgrimage that Millicent Beveridge first met Lawrence at a party in Sicily in 1921, where she found him in a rage because, 'not made aware beforehand that it was a party and that he was to be lionised, he had turned up barefoot with sandals and in his 'pottering about' clothes. In this respect Lawrence was no bohemian. He believed in suiting the occasion.'
Or perhaps they date from his time at the Villa Mirenda, Tuscany, from where he writes to his niece Margaret King on 24th June 1926:
'I am always so glad when the real summer comes, and one can go about with light clothes on, and feet in sandals and not bother about anything.'
Or were they bought in Mexico? He describes in 'Market Day', in Mornings in Mexico, being offered sandals to buy, 'They are of narrow woven strips of leather, in the newest Paris style, but a style ancient to these natives'. He says, however, that they smell - he is concerned that they have used excrement in the processing of the leather and doesn't buy them. And those sandals were Mexican Huaraches made of several woven strips of leather with a back which these sandals certainly don't look anything like.
So are we really any closer to knowing where Lawrence got those sandals?
Amy Bowler from the Manuscripts Department suggests Lawrence could have been influenced by Edward Carpenter, who made his own sandals when he lived at Millthorpe near Chesterfield. This pair certainly look a little like his 'mandals'.
Lawrence's desire to return to a more primitive society in harmony with nature and his quest for Rananim were close to Carpenter's ideals. We know Lawrence was very practical, interested in farming and artisan crafts, and making his own furniture and clothes. Catherine Carswell describes going to visit the Lawrences when they were staying at Hermitage, near Newbury:
'We went wooding with a rickety pushchair among the sheets of bluebells, which were just past their best, and so were outshone by the suits of bright blue coarse linen worn by the Lawrences. Frieda and Lawrence were justly proud of these suits, which they had themselves cut out and made.'
So, was Lawrence inspired by Carpenter to make the sandals himself, or did he buy them on his travels?
In a final push, I contacted the Museum of Indian Arts and Culture in Santa Fe to see if the sandals were Native American. They contacted the New Mexico Office of Archaeological Studies who identified them as 'made in India'. So were they from Lawrence's time in Sri Lanka?
John Worthen thinks the Indian connection is the most likely:
'The contact with India was not just from Lawrence's time in Sri Lanka (when we know he did come home from the bazaars with sandals and beads and materials - that's something which Achsah Brewster recalled) but also with Earl Brewster, who spent a lot of time in India (he was a Buddhist). It's possible that DHL carried his Sri Lankan sandals around the world with him, but I rather doubt it (they'd not have been much use in Australia in winter).The fact that the sandals apparently survived in DHL's possession suggests that it's rather more likely that, sometime during his last four years - in Europe, of course - he was given the sandals by the Brewsters. They saw a lot of the Lawrences at that time. I note that on 28 May 1927 DHL wrote to Brewster - then on Capri -asking him for some of "those rope-soled Capri shoes", for himself and for Frieda; and they arrived on 9 June 1927, when DHL wrote to Brewster thanking him for 'the shoes'. Not these sandals, for sure, but it confirms that Brewster gave Lawrence light summer shoes. I reckon he may well have sent him or gave him the sandals.'
So, at the end of this quest we conclude that Lawrence was given the sandals rather than making them or buying them. Of course, we'll probably never know for sure, but it's been fun trying to find out.
If you have any thoughts or would like to get involved with our objects of special interest research please contact us via the website or on Twitter, Facebook or Instagram – all ideas are very welcome.
Kate Foster
Click the link below to read Stephen Alexander's response to this piece.
http://torpedotheark.blogspot.com/2020/05/on-d-h-lawrences-sandals.html