Lawrence's Nottingham High School Prizes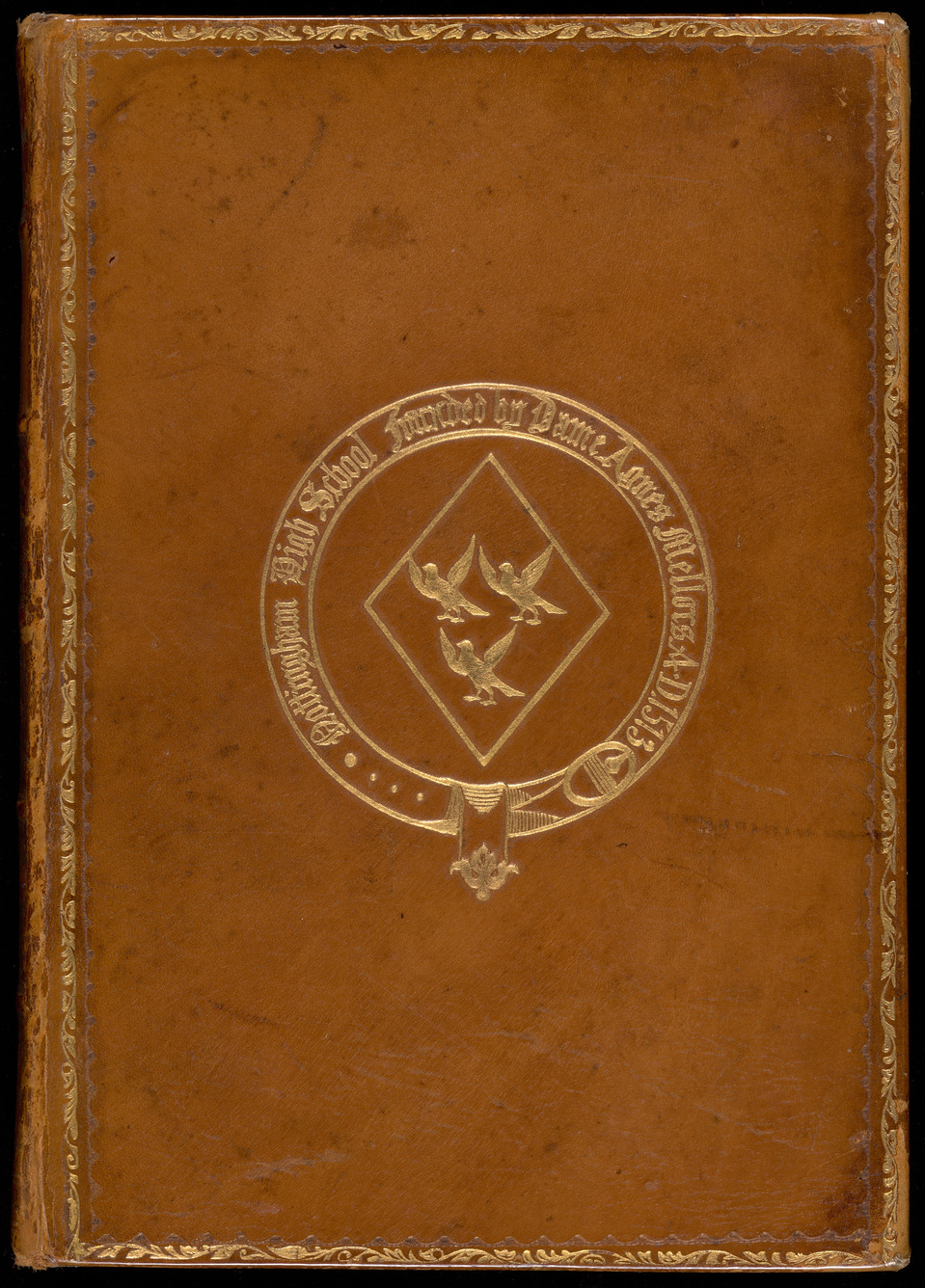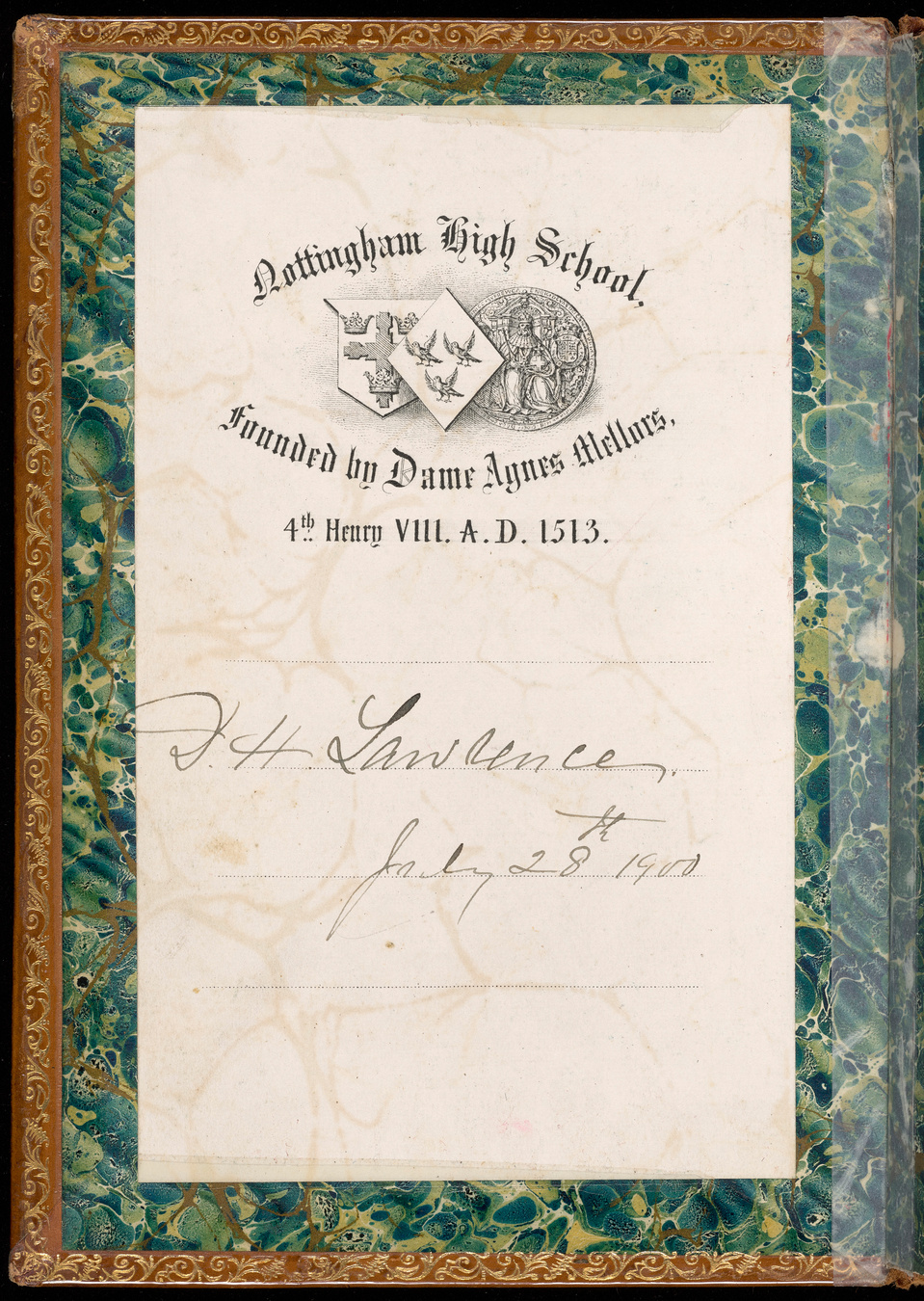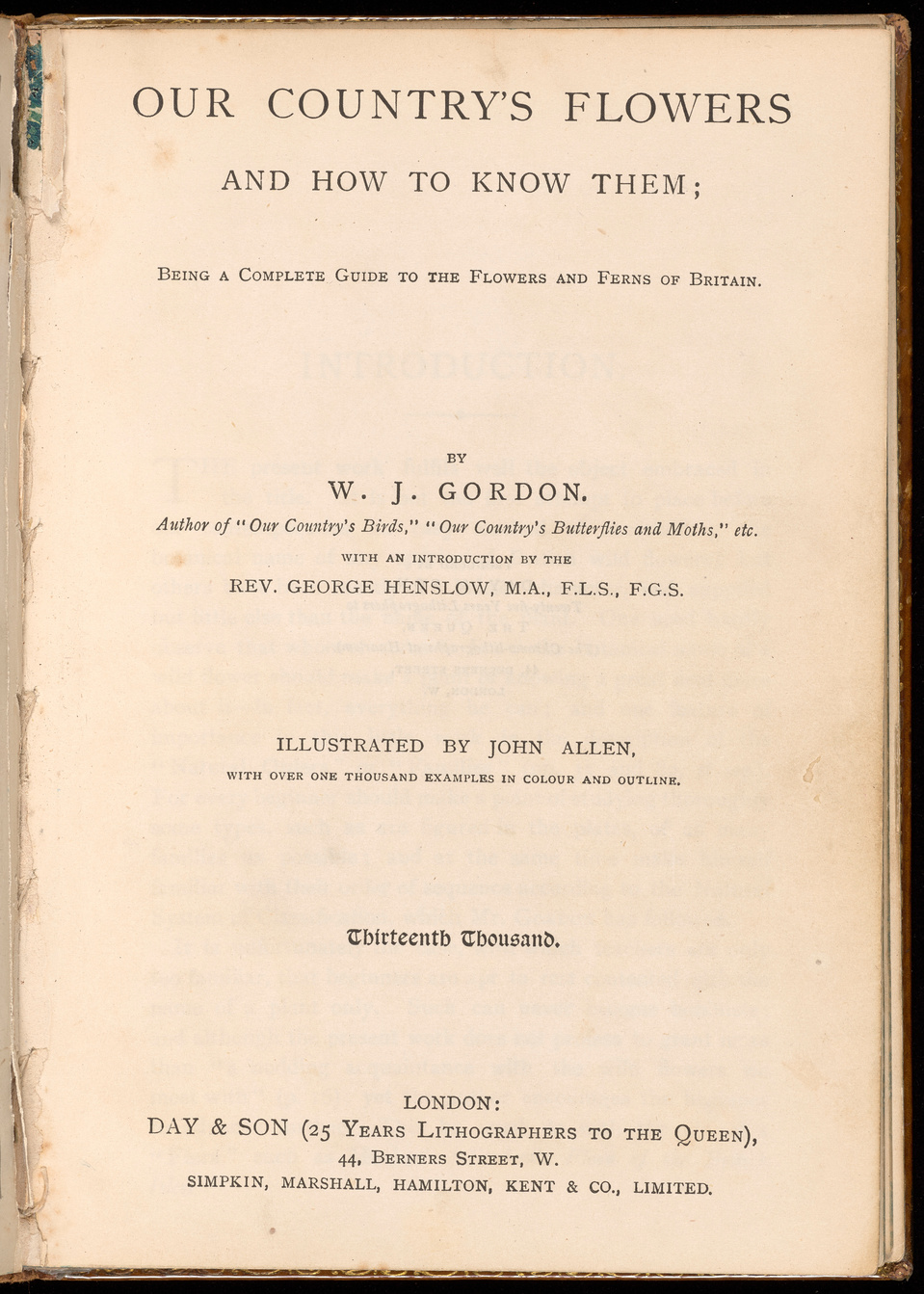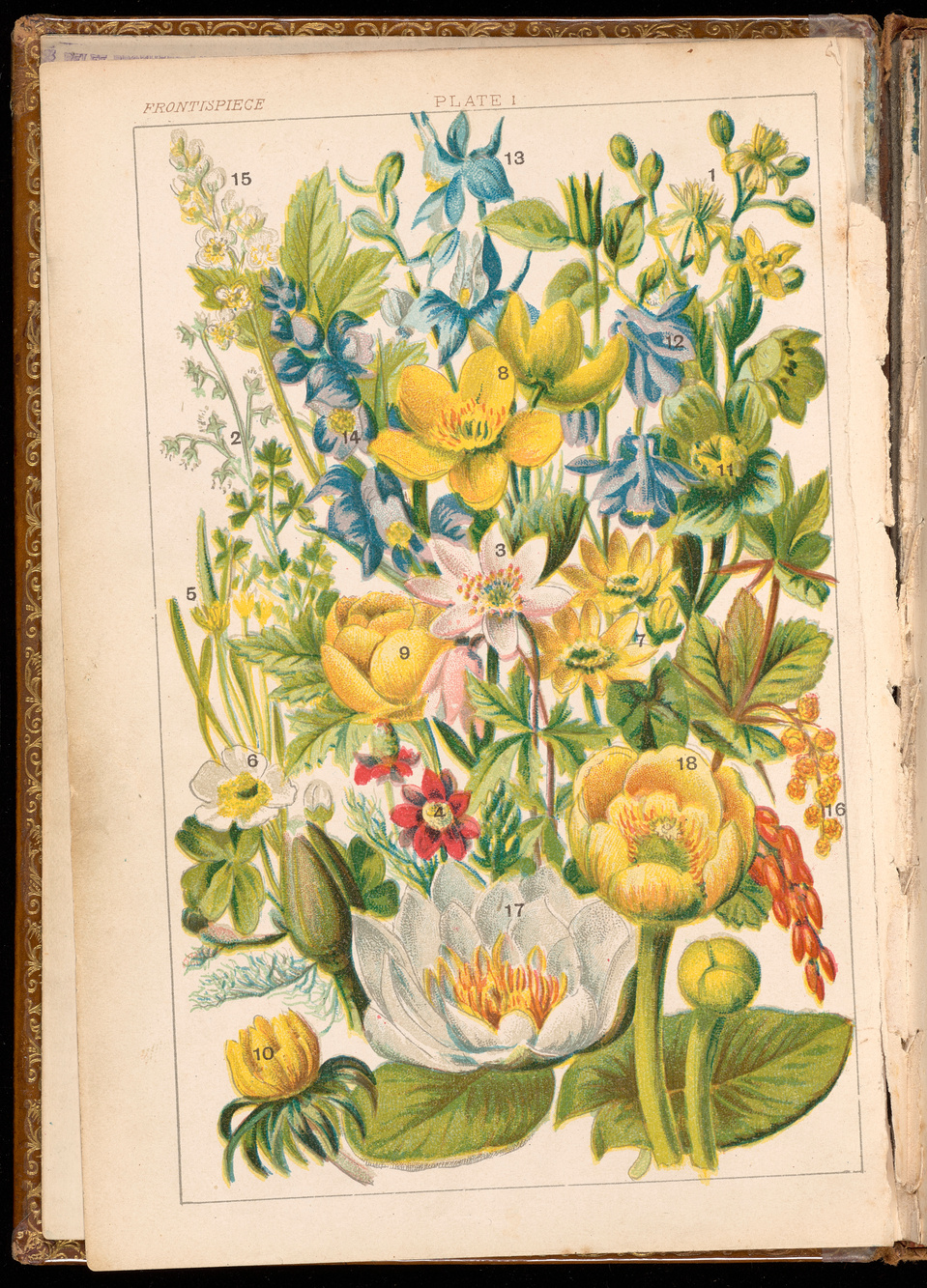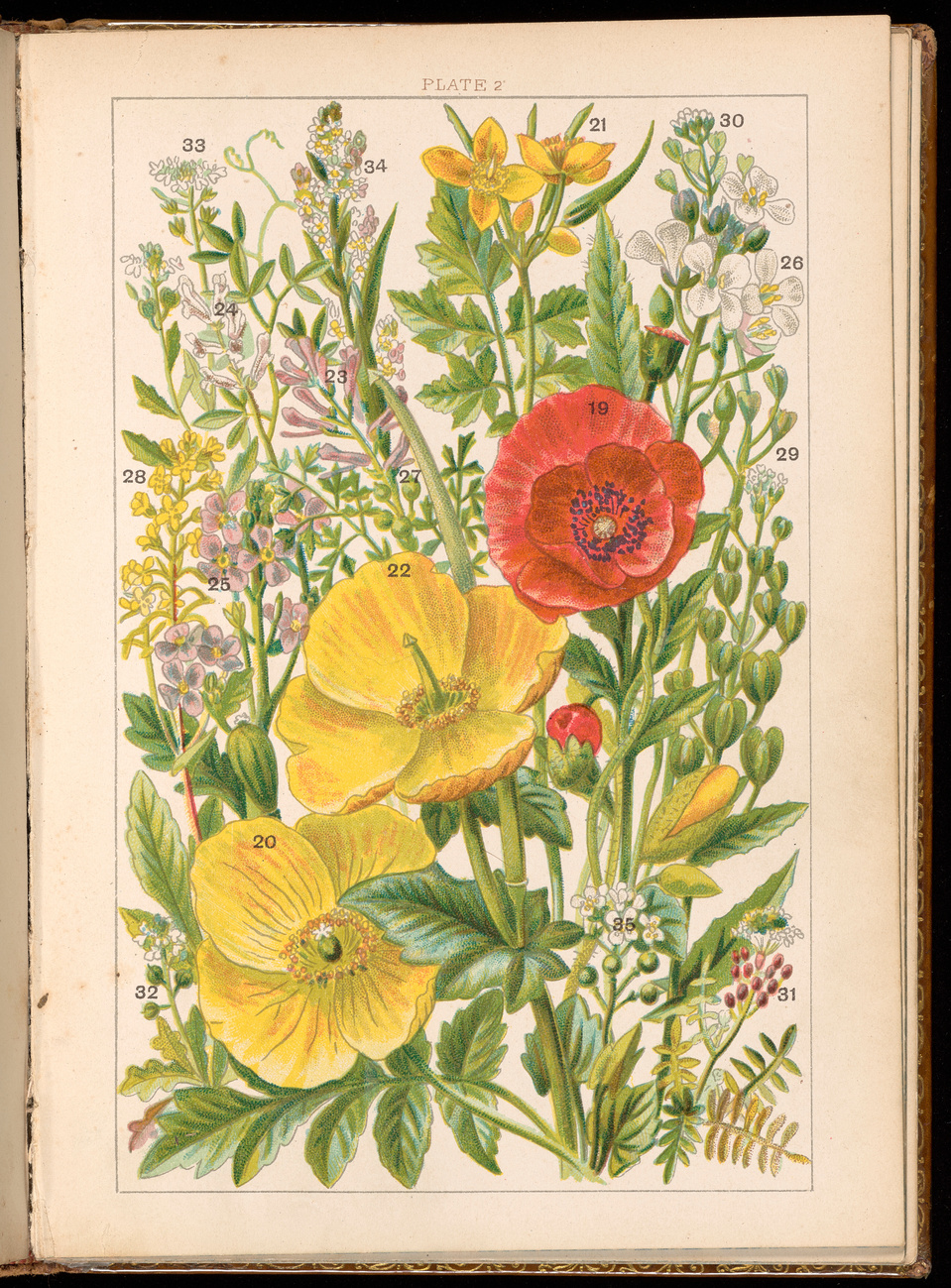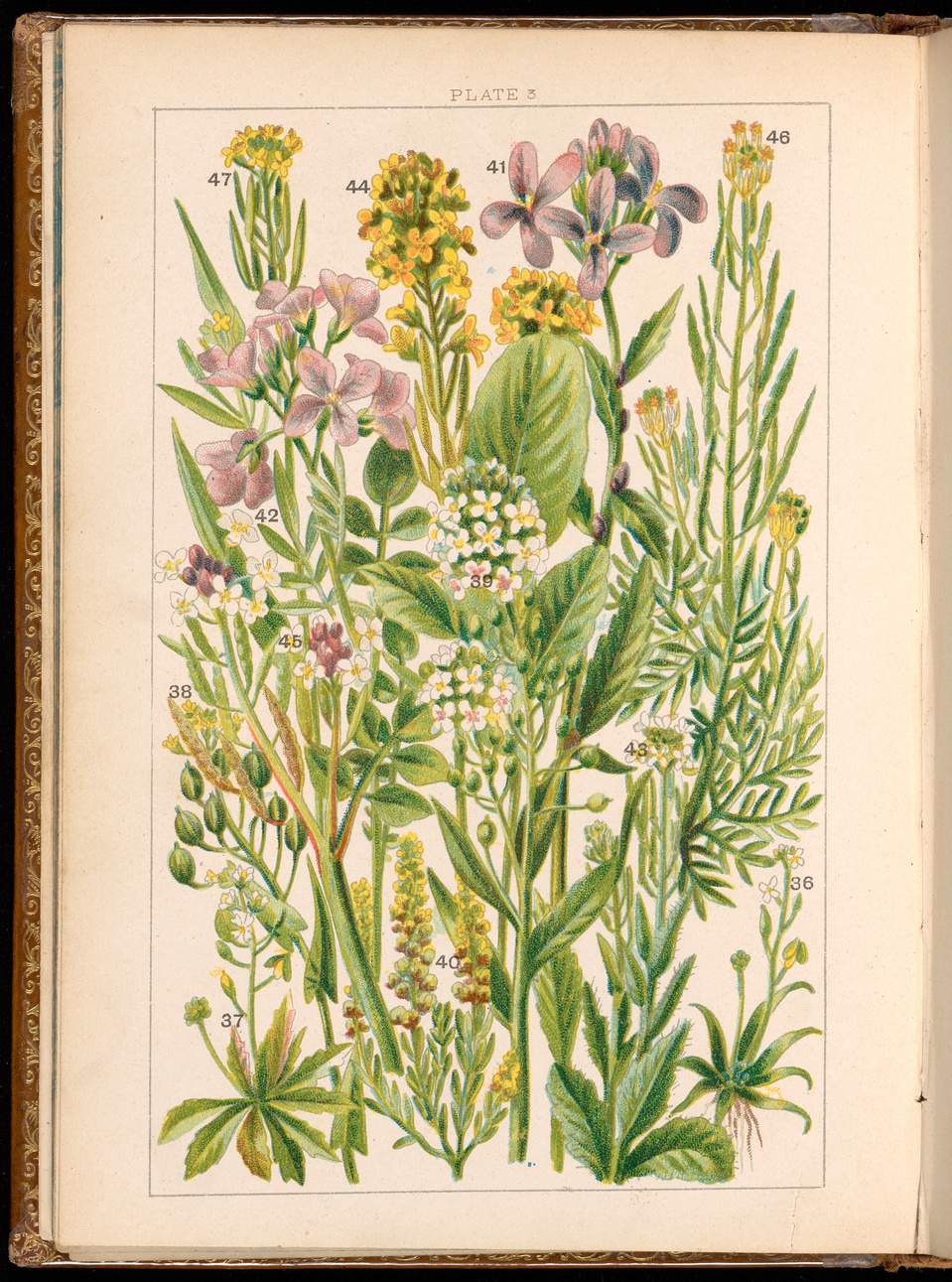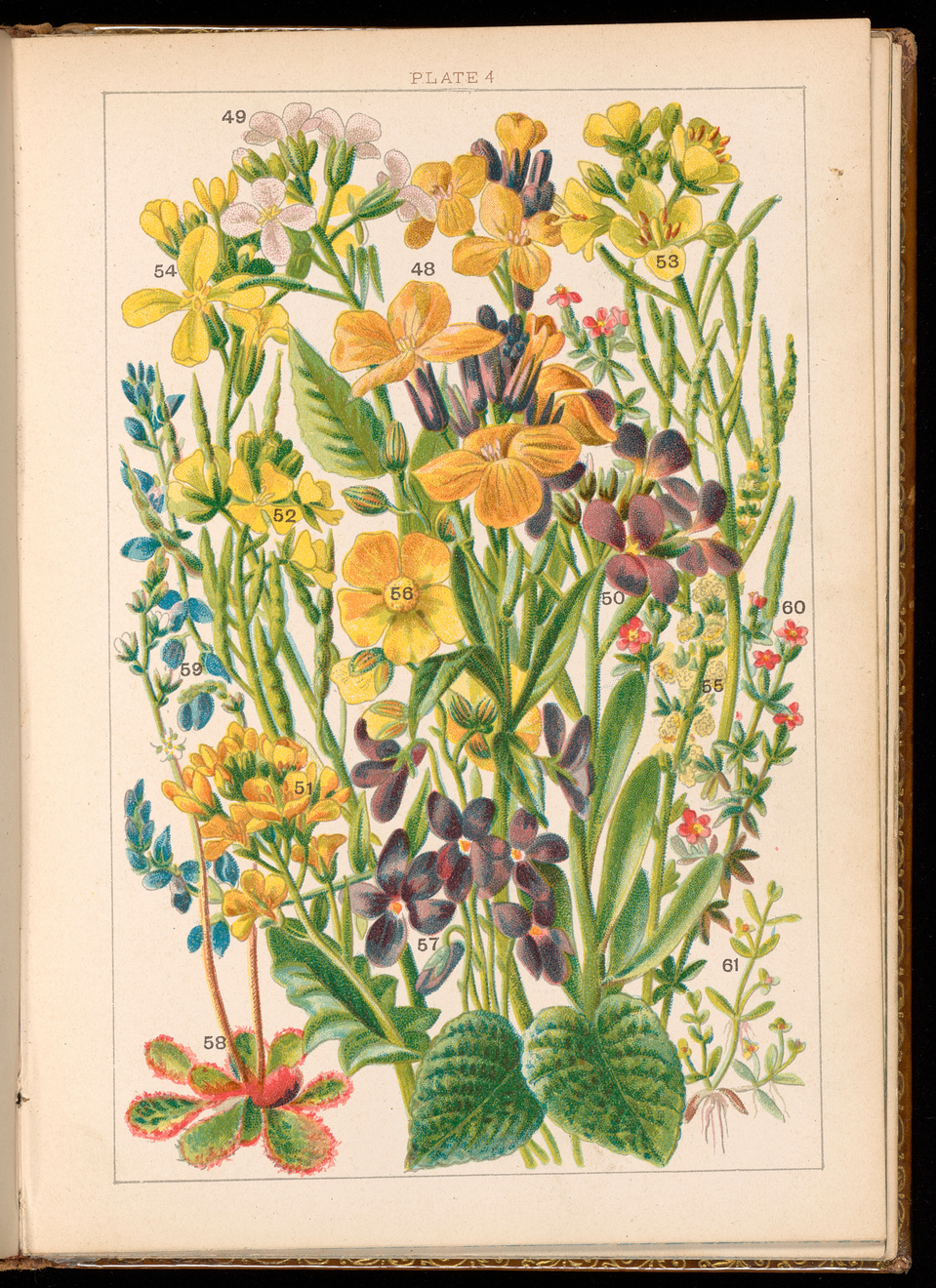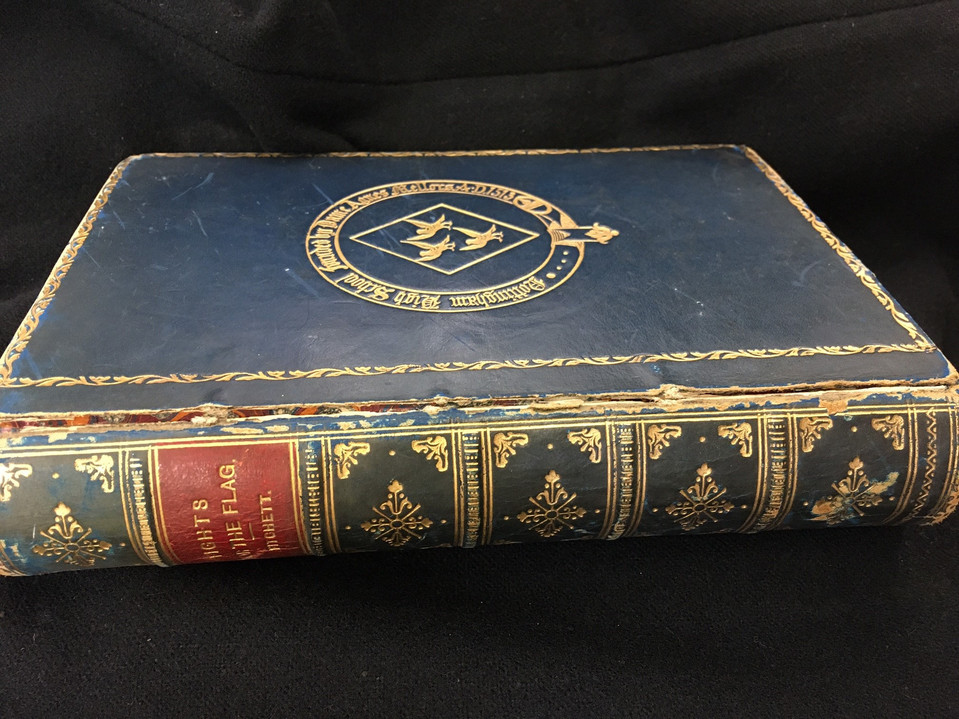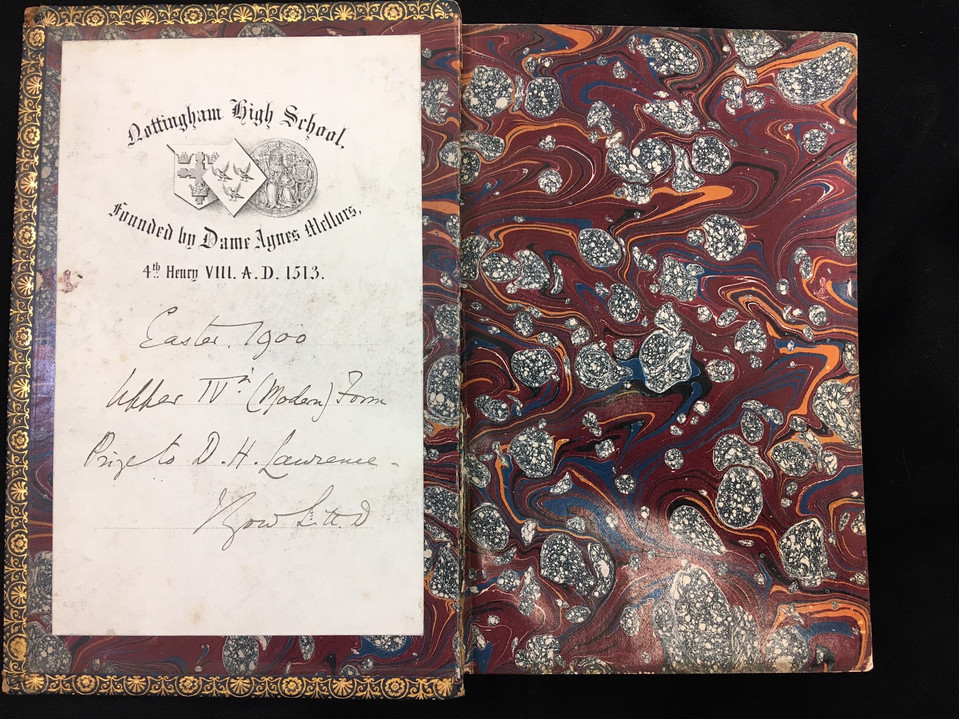 Here we have two books given to Lawrence as prizes while he was at Nottingham High School. The first is in The Manuscripts and Special Collections Department, Nottingham University:
La X 13: W. J. Gordon, Our Country's Flowers and How to Know Them (London: Day & Son, 1900), presented as a school prize to D. H. Lawrence whilst at Nottingham High School, 28 Jul. 1900 (contains inscription providing this information).
The second is at Nottingham High School:
W. H. Fitchett, Fights for the Flag (London: Smith, Elder & Co., 1898), presented as a school prize to D. H. Lawrence whilst at Nottingham High School, Easter 1900, signed by the headmaster James Gow.
In early autumn 1901, Lawrence, helped by his brother Ernest, wrote to apply for a post as a warehouse clerk at the surgical goods factory of JH Haywood, in the centre of Nottingham. His high school education and his prizes must have made a good impression; he got the job.
James T Boulton's notes state, 'School records confirm prizes for Mathematics at Easter 1899 and July 1900, and a form prize at Easter 1900. Prizes in French and German are not recorded.'

High School Days
Lawrence won a scholarship and attended Nottingham High School from 14th September 1898 to 28th July 1901. He was only the second miner's son ever to go there.
'Having never been a normal Eastwood boy, he was now going to be a thoroughly abnormal one, with his high collar and dark suit, books under his arm, catching the Nottingham train in the morning when his contemporaries were employed at the local collieries, if not already working underground.'
It was an exhausting day; school started at 9am and finished at 4.15, it was a 2 ½ mile walk to the station at Kimberley and so he left home before 7am and returned after 7pm with homework still to do. Lawrence told Jessie Chambers, 'It would probably have been better for him if he had never won the scholarship. It was a great strain, he said, when one was only eleven, to have the long walk to the station and a daily train to catch. There was always the anxiety lest one should miss it, and again he was obliged to be away from home for the midday meal.'
As well as this anxiety, Lawrence seems to have struggled to fit in at school; the journey alone would have made it hard for him to socialise, but of course his social class was an issue too. Frieda Lawrence claimed he told her of a boy who had invited him to tea but refused to carry on with the friendship once he heard he was a miner's son. To make matters worse, during his second year, his uncle, Walter Lawrence went on trial for the murder of his son Walter, a story which of course made all the local papers.
The short story 'Hadrian [You Touched Me]', tells the story of two aspirational sisters and their adopted brother, Hadrian, who they send to High School: 'He did not like it. His cousin Matilda had longed to make a little gentleman of him, but he refused to be made. He would give a little contemptuous curve to his lip, and take on a shy, charity-boy grin, when refinement was thrust upon him. He played truant from High School, sold his books, his cap with its badge, even his very scarf and pocket handkerchief, to his school-fellows, and went raking off heaven knows where with the money. So he spent two very unsatisfactory years.'
It's an experience that many working class children who passed the eleven plus and went to grammar school will relate to, feeling a fish out of water, neither working class nor middle class. It took a strong character to hold their own among children whose upbringing and outlook was so different to theirs, and then to spend weekends with their old friends who were now employed. But there were things Lawrence gained from High School, he made at least one good friend, enjoyed his lessons and related well to some of his teachers.
Jessie Chambers remembered his first visit to her home: 'The single point of interest for me, lay in the fact that he was still a schoolboy, as his Eton coat and collar reminded me. My own schooling, which had been of the crudest, had finished six months before, and my lack of education was a bitter humiliation to me. I was aware that this rather aloof youth had been for some years at the High School, and that he had studied French and German. I fancied that his superior education enabled him to appreciate things which were inaccessible to me.'
We can see from another occasion with Jessie, that Lawrence enjoyed being the knowledgeable one and taking on the role of teacher: 'I returned from some errand on a Saturday afternoon of blazing sunshine to find him sitting on the stone bench at the back of the house in the shade. Directly he saw me he drew a thin algebra text-book out of his pocket, one of his old High School books, and showed me where he had copied out the definitions, postulates, and axioms of Euclid on the inner covers. He said in his excitable way:
'Look here, I've just discovered you have to take maths. In your exam, so you'd better begin.'
Without more ado he began to rush through the definitions with me, always assuming that I had followed his explanations.'
School Prizes
Lawrence rarely writes about his time at the High School, but his prize books appear in the kitchen setting of A Collier's Friday Night. Along with his brother's books, they mark the family out as educated: 'On the right is a bookcase upon a chest of drawers. This piece of furniture is of stained polished wood in imitation of mahogany. The upper case is full of books, seen through the two flimsy glass doors: a large set of the World's Famous Literature in dark green at the top–then on the next shelf prize-books in calf and gold, and imitation soft leather poetry-books, and a Nuttall's dictionary and Cassell's French, German and Latin dictionaries.'
Yvette Gunther, Head Librarian/Archivist at Nottingham High School, supplied some useful background information about the prizes: 'Book Prizes were given out from the 1870s; some of the books we have with similar binding were put in the library without a book plate while others have the book plate which is not written on, implying they had spares. Books do seem to have been chosen with the boy's age in consideration. The range of titles is wide with titles including C.-A. Wurtz The Atomic Theory (English Essay Prize 1891!), to two on David Livingstone by Thomas Hughes, one uninscribed and one presented for a Drawing Prize in 1907.
Of all the prize books we've had returned over the years, the only flower or nature book I've seen was the one that was awarded to Lawrence, now in the University collection. I'd love to think that Lawrence chose it himself or that someone knew him well enough to choose it for him. However, now I think that because they were all so beautifully bound with our crest, they may have been bought well in advance.'
It doesn't seem likely that Lawrence would have been so interested in Fights for the Flag in which 'Fitchett brings to life some of the most notable clashes of arms between the British and the various enemies that they have fought against, from Minden to the Crimean War, from Blenheim to Salamanca.' But it's fascinating that Gordon's Our Country's Flowers is the only flower or nature book Yvette has seen given as a prize, a serendipitous choice, its timing fits perfectly with his growing awareness of, and affinity with, nature which became central to his life and writing.
We know that Lawrence acquired some of his knowledge from his dad, who loved wildlife, brought home a baby rabbit (Adolf) and worked the family allotment, but it was during his visits to Haggs Farm that it seems to have flourished. Jessie writes significantly of this connection:
'There seemed no flower nor even weed whose name and qualities Lawrence did not know. At first I was sceptical of his knowledge.
'How do you know what it is?'
'I do know.'
'But how do you know? You may be wrong.' I persisted.
'I know because I know. How dare you ask me how I know.' He answered with heat.'
Why did Jessie's question make Lawrence so angry, and why wouldn't he share where he got his knowledge? Could he not bear to admit that it was from his father, or that he had spent hours poring over a certain book?
Lawrence refers to this too in his short story 'The Shades of Spring', where he explores the distance which has now grown between him and Jessie. ''We know all the birds, but there are many flowers we can't find out,' she said. It was half an appeal to him, who had known the names of things.'
Lawrence and Flowers
In 'The Man Who Loved Islands', the protagonist Cathcart is working on a book which might remind us of Our Country's Flowers: 'He spent long hours in his library, for he was compiling a book of reference to all the flowers mentioned in the Greek and Latin authors. He was not a great classical scholar: the usual public-school equipment. But there are such excellent translations nowadays. And it was so lovely, tracing flower after flower as it blossomed in the ancient world.'
In the story, however, Cathcart disillusioned with the world, distances himself from people and becomes absorbed by nature: 'He didn't mind if he never published his book. The years were blending into a soft mist, from which nothing obtruded. Spring came. There was never a primrose on his island, but he found a winter-aconite. There were two little sprayed bushes of blackthorn, and some wind-flowers. He began to make a list of the flowers on his islet, and that was absorbing. He noted a wild currant bush, and watched for the elder flowers on a stunted little tree, then for the first yellow rags of the broom, and wild roses. Bladder campion, orchids, stitchwort, celandine, he was prouder of them than if they had been people on his island. When he came across the golden saxifrage, so inconspicuous in a damp corner, he crouched over it in a trance, he knew not for how long, looking at it.' Cathcart's list of the flowers he can find for himself strikes us as more significant than his book of classical compilations.
Lawrence is writing about the dangers of a disconnect with people, but now of course we have the opposite problem, biophobia, or a disconnection from nature that is reducing our collective will to preserve species and habitats. It's important because increasingly, research has shown that as species and ecosystems vanish, it also chips away at our ability to preserve what remains — because we no longer understand what we're losing. There's an abundance of nature to absorb Cathcart, a far cry from the world we live in now, where one recent study shows that just 3% of the world's ecosystems remain intact, and another that only 7% of UK woodlands are in a good condition amid wildlife decline.
We can read Lawrence, just as we read Robert Macfarlane and Jackie Morris's The Lost Words, as a celebration of nature, reminding us of the wildlife disappearing from our countryside. In fact, for many of us, much of the pleasure of reading Lawrence comes from his descriptions of nature, which are so vivid, so beautiful, and of course, so carefully observed. Here are some of his descriptions of the wood anemone, or windflower, the white, starshaped flower right at the centre of plate 1 in Our Country's Flowers:
'The young pale wind-flowers had arisen by the wood gale, and under the hazels, when perchance the hot sun pushed his way, new little suns dawned and blazed with real light.' The White Peacock
'You should be out by the orchard, where violets secretly darken the earth,
Or there in the woods of the twilight, with northern wind-flowers shaken astir.
Think of me here in the library, trying and trying a song that is worth
Tears and swords to my heart, arrows no armour will turn or deter.' 'Letter from Town: On a Grey Evening in March'
'Her body opened wide like a quivering anemone, a soft dilated invitation touched by the moon.' The Rainbow'
'How cold the anemones looked, bobbing their naked white shoulders over crinoline skirts of green. But they stood it. A few first bleached little primroses too, by the path, and yellow buds unfolding themselves.' Lady Chatterley's Lover
Kate Foster
References:
James T Boulton Ed., 'The Selected Letters of DH Lawrence'
John Worthen, 'DH Lawrence: The Life of an Outsider', and 'DH Lawrence: The Early Years'
ET (Jessie Chambers), 'DH Lawrence: A Personal Record'
Additional note:
Charles Montague Weekley, Frieda and Ernest Weekley's son, born 1900, also attended Nottingham High School from the age of nine. His father removed him when he removed his entire family down to London after Frieda left him in 1912.