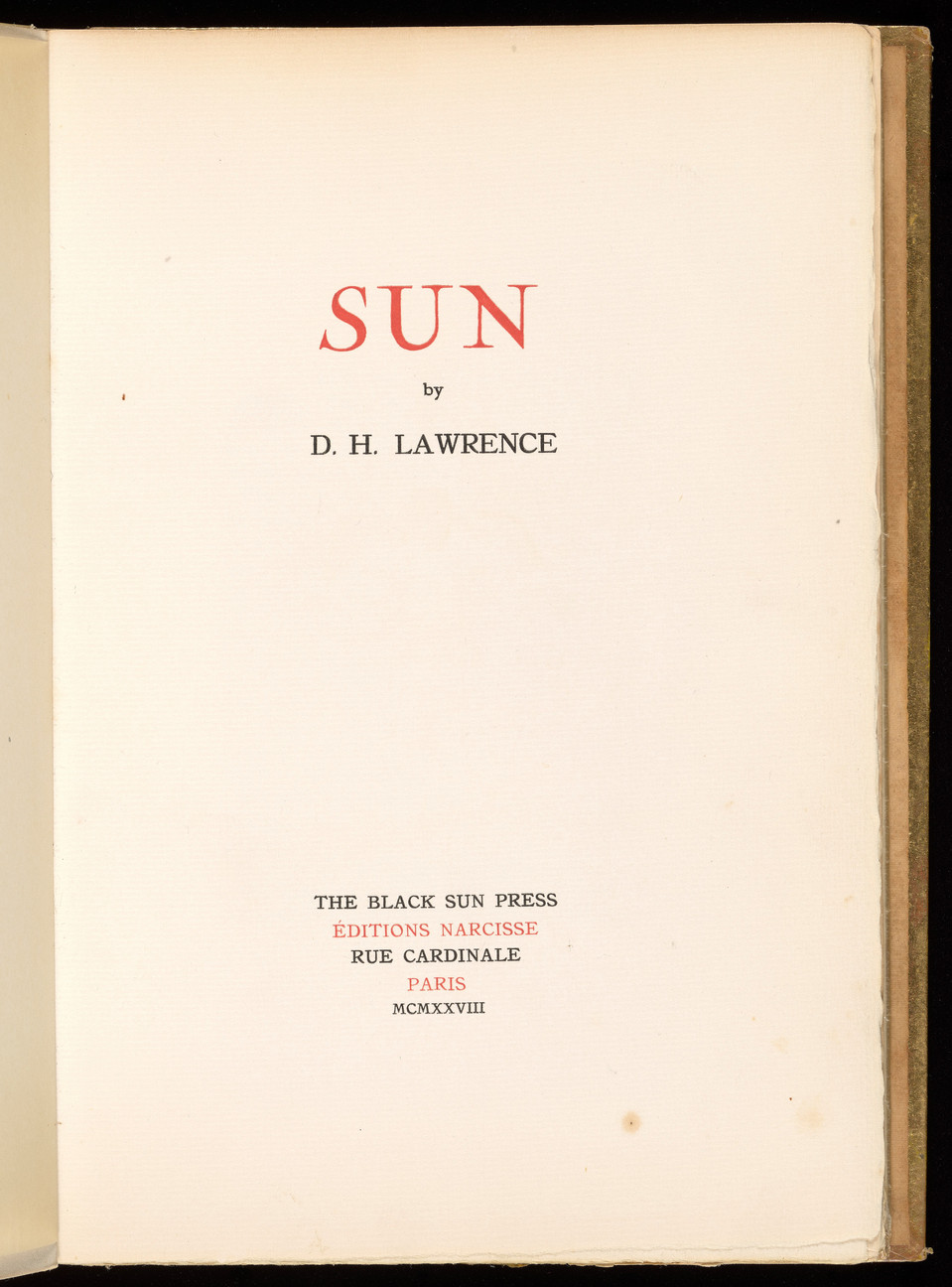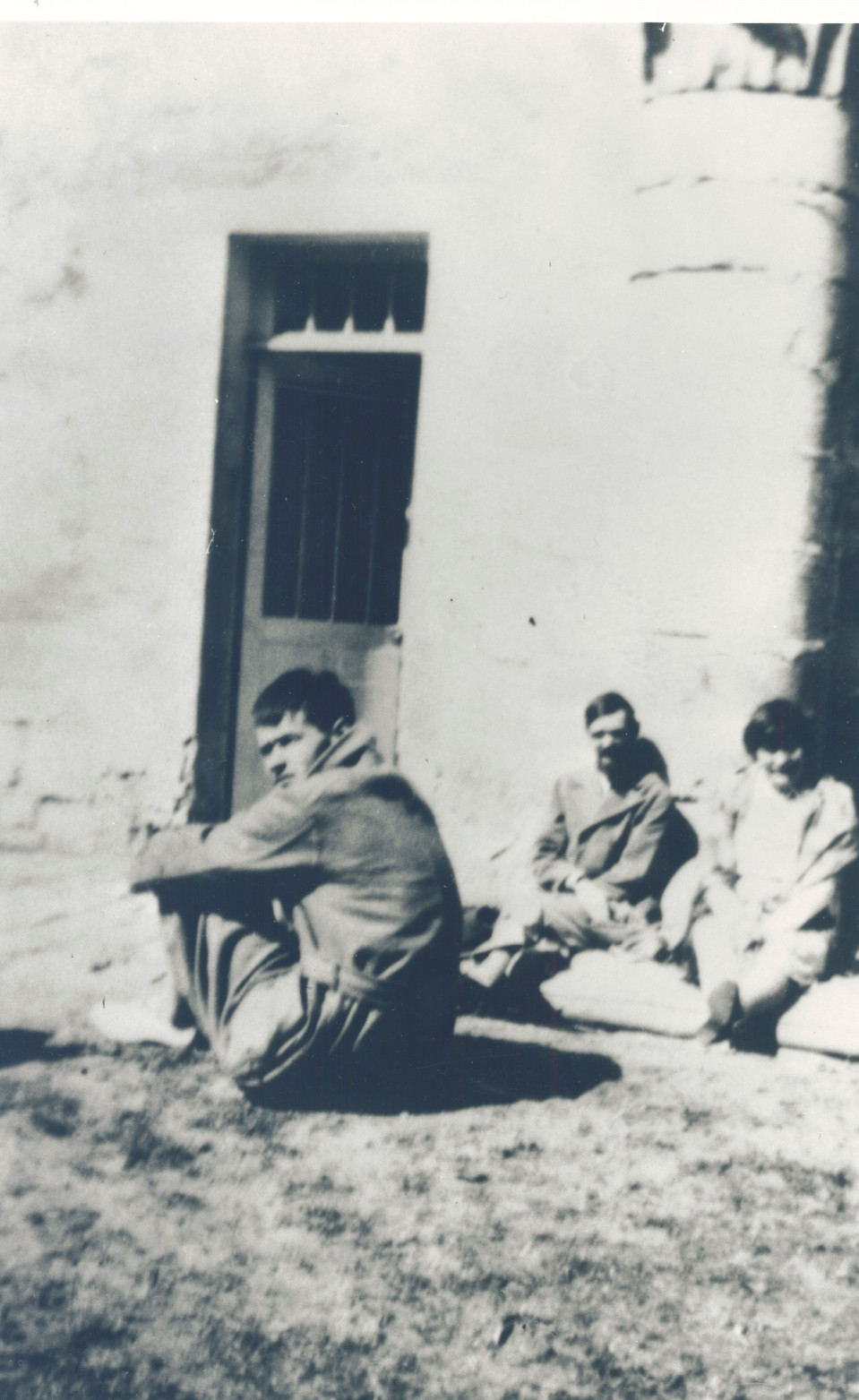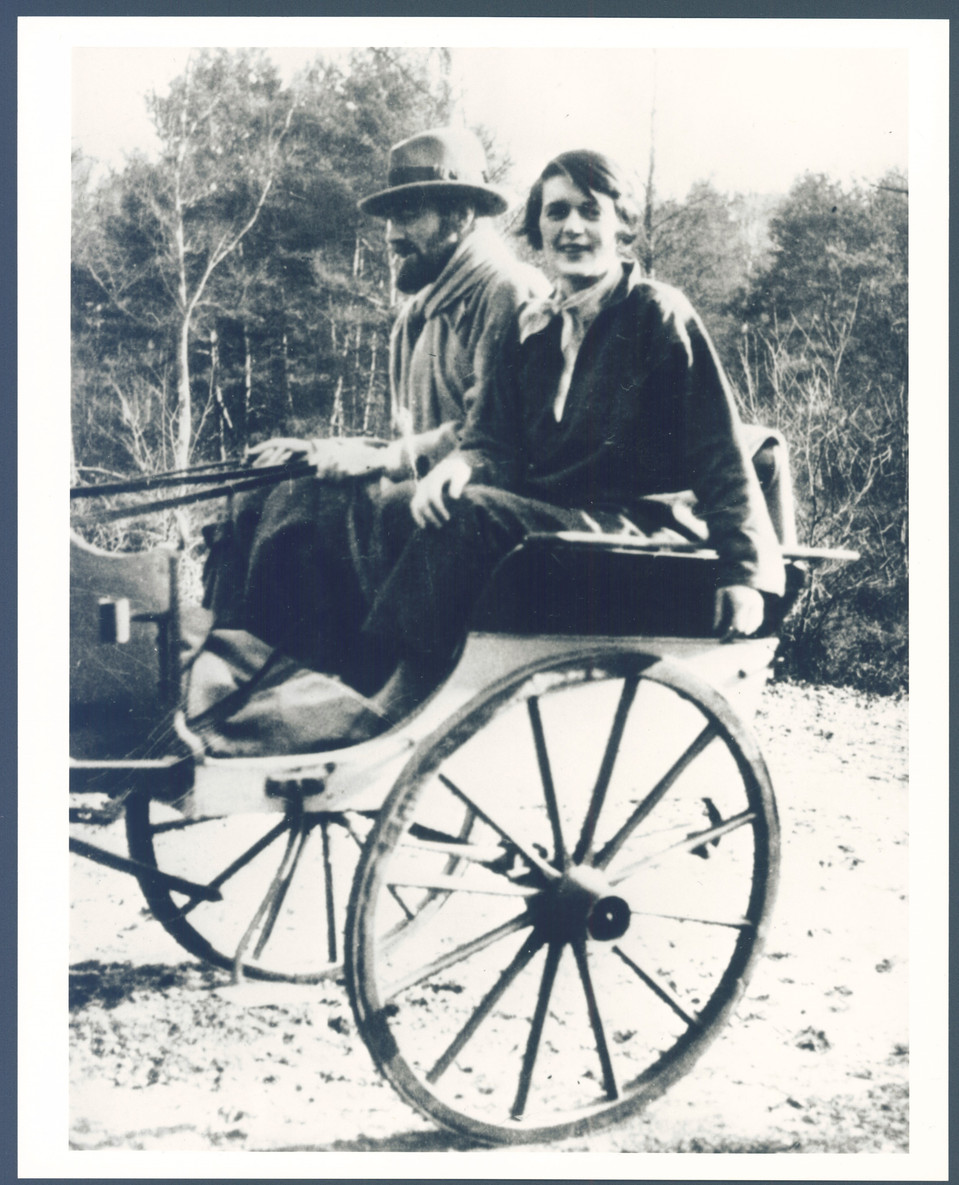 Our fifth item from the Lawrence collection at The Manuscripts and Special Collections Department, Nottingham University is two photographs of the front cover, and frontispiece drawn by Lawrence, for a rare edition of his short story 'Sun', published by Harry and Caresse Crosby's Black Sun Press in 1928.
Listed in the catalogue as: Title page and Frontispiece from D. H. Lawrence, Sun (Black Sun Press, 1928) Classmark: Lazarus PR6023.A9.S886.F28
To accompany these items, we have two photographs of Lawrence with the Crosbys. Both were taken when the Lawrences spent the weekend with the Crosbys at Le Moulin du Soleil, Ermenonville, near Paris, 29 March-1 April 1929. The first shows Harry Crosby with Lawrence and Frieda (Ref: La Phot 1/68), and the other shows Lawrence with Caresse Crosby in a horse-drawn carriage (Ref: La Phot 1/70).
The Black Sun Press edition of 'Sun', is currently on display at the Editing D.H. Lawrence exhibition at Lakeside Arts, Nottingham University and has an interesting story behind it.
'Sun' was inspired by Lawrence's time in Spotorno on the Italian Riviera where he and Frieda sought refuge after a rather miserable trip to the UK, when both the atmosphere and the weather got them down. Rina Secker, the wife of Lawrence's publisher, Martin Secker, was staying in Spotorno on the recommendation of doctors and invited the Lawrences to visit. The main characters of Sun, Juliet and Maurice, were based directly on Rina and Martin Secker. Rina, Lawrence described as 'a living block of discontent', while Secker was 'a nice, gentle soul without a thrill'. Rather than use Spotorno as the setting, Lawrence recreated Fontana Vecchia in Sicily.
There are two versions of 'Sun'. The first was published in The New Coterie, a quarterly of arts and literature, in the Autumn of 1926 as a limited edition of 100 copies. Harry Crosby, who ran Black Sun Press with his wife, Caresse, subsequently wrote to Lawrence asking for a manuscript to publish for which he offered to pay $100. Lawrence thought his story 'Sun' would be apt, but his agents, Curtis Brown could not lay their hands on it, so Lawrence wrote out a new, longer version with a sexually explicit ending. Black Sun Press: Éditions Narcisse published a limited run of 150 in 1928. This version of 'Sun' wasn't published again for 40 years, so became very rare and sought after.
Harry and Caresse Crosby, who Lawrence became friends with for a while, were an intriguing couple. Caresse Crosby was an American heiress who scandalised Boston society when she had a very public affair with Harry Crosby, the Harvard-educated nephew of J.P. Morgan. Her husband gave her a divorce and she and Harry moved to Paris joining the Lost Generation of American expatriates. In 1925, she and Harry began publishing their poetry as Éditions Narcisse. In 1927, they re-christened the business the Black Sun Press and began publishing early works of important writers such as James Joyce, Hart Crane, Kay Boyle and Ernest Hemingway in beautifully printed, limited-edition volumes. In a side note, Caresse Crosby became the first person to receive a patent for the modern bra in 1914. The publishing house got its name because, Caresse said, "black was Harry's favorite color and he worshipped the sun." It was sun worship that first led the Crosbys to Lawrence. They invited he and Frieda to stay at their windmill outside Paris. Lawrence wrote an introduction to Harry Crosby's poetry collection Chariot of the Sun, called 'Chaos in Poetry'. 'It is poetry of suns which are the core of chaos, suns which are fountains of shadow and pools of light and centres of thought and lions of passion.'
According to L.D. Clark, in an article for the D.H. Lawrence Review , Crosby and Lawrence disagreed over the frontispiece for the edition. Crosby suggested his own sun motif but Lawrence preferred an American Indian design. Both wanted a symbol that would 'embody the darkness together with the brightness of the sun'. First, Lawrence suggested a sun-tower design – common to many American Indian tribes – with the tower representing clouds in conjunction with a symbol for the sun. But Crosby didn't like this design. So Lawrence came up with the design we can see in the photograph which Crosby accepted. The image Lawrence chose to use was from an obscure Guatemalan culture, the Pipil, but has much in common with Aztec or Mayan designs. It shows a Sun God, hands reaching down, surrounded by flames or rays, with the sun as an emblem on their breast and a fan-like headdress.
'Sun' tells the story of a nervous and exhausted young mother, Juliet who is sent on her doctor's advice, to spend time in the sun, more specifically, according to her mother, to lie naked in the sun. Juliet follows this prescription, at first passively absorbing the sun's rays, but then more actively, sexually, choosing the sun and determining that her son should choose it too.
It's hardly surprising that a miner's son from Eastwood was drawn to the sun. Used to long, dark British winters when his father would spend all daylight hours down the pit; listening to him look forward to Spring to spend evenings outside in the allotment and weekends walking in the countryside. Once he left England, Lawrence headed for the sun for both his physical health and his mental wellbeing. "Take her away, into the sun", the opening line of the story, apparently echoes Lawrence's doctor's orders to convalesce at the ranch in New Mexico. After time spent there following the customs of American Indians, sun worship became a philosophy to Lawrence; a series of poetry, essays and 'Sun' make clear this went far beyond sunbathing.
'How strange it would be if some women came
forward and said:
We are sun-women!
We belong neither to men nor our children nor
even to ourselves
but to the sun.'
To Lawrence, the sun heals, regenerates and makes new; he wanted us to see how our lives can be in 'direct contact with the elemental life of the cosmos, mountain life, cloud life, thunder life, air life, earth life, sun life.' His aim in Apocalypse, written at the end of his life, was to encourage us to 'reestablish the living, organic connections, with the cosmos, the sun and earth, with mankind and nation and family. Start with the sun and the rest will slowly, slowly happen.'
Editing D.H. Lawrence exhibition, Lakeside Arts, Nottingham
DH Lawrence is an iconic figure in English literature, but also one of the most controversial. He struggled with publishers throughout his career to express himself in the form he wanted. Drawing on a range of items including manuscripts and typescripts, and rare first editions, this exhibition traces the ways in which his writing was amended and censored, and the innovative approaches to publishing he developed in response to censorship. It explores how his letters and works have been edited for the edition published by Cambridge University Press between 1979 and 2018, and how his novels, short stories and plays have been presented and adapted to appeal to succeeding generations of readers. The exhibition is open Tuesday to Sunday 12 – 4 until the end of May. Details can be found here
Sources/ Further Reading:
L.D. Clark, 'Lawrence's "Maya" drawing for "Sun".' The D.H. Lawrence Review, spring-summer 1982, Vol. 15 John Worthen, D. H. Lawrence, The Life of an Outsider, Penguin, 2006
Carrie Rohman, 'Ecology and the Creaturely in DHL's 'Sun'', The D.H. Lawrence Review, 2010 access here
Joyce Carol Oates, 'The Hostile Sun: The Poetry of D.H.Lawrence', access here
Michael L. Ross, 'Lawrence's Second "Sun".' The D.H. Lawrence Review, spring 1975, Vol. 8, No. 1
Stephen Alexander, 'Sun-Struck: On the Question of Solar Sexuality and Speculative Realism in D. H. Lawrence', access here